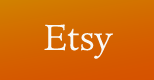 In the year 2001, I came across an opportunity where you can sell your home made toys, mats, wall hangers in the Internet. I didn't believe it then.
I forgot all about it for several years until I came to know Café Press where you can sell gifts for corporate with their company logo.
Then, the eBay came and the internet has thrown open its doors to every nook and corner of the world. Anyone with a special craft and art skill can sell their wares in eBay.
Similar to eBay is Etsy but with one exception. It is a place to sell and buy only handmade goods. This is only to encourage individuals with skill to make money working from home.
Some of the items you can buy and sell in Etsy.
Beads
Jewelry
Pillow covers
Pet needs
The fee:
To list your items for sale, you pay Etsy, 30 cents.
The sales commission is 3.5%.
This is an excellent way to work from home.